Welcome to our list of arts and cultural events happening in the NSW Central West gathered from artists, event producers, great local venues and groups across the region.
It's free to submit your local events. (Use the 'Submit' option under the 'Whats On' menu at the top of the page).
For maps and details of museums, galleries, artist studios, historic sites, Aboriginal experiences and sites, craft shops, handmade retail outlets or public art go to the Culture Maps Central NSW menu.
A Night of Neil Young Classics! By Pat O'Donnell with the Handpicked Band
Thu 9 March at 6:00 pm

-

9:00 pm
A night of Neil Young classics by local legends Pat O'Donnell & The Handpicked band!
Local legends Pat O'Donnell & the Handpicked Band bring a Night of Neil Young Classics to The Backyard!
With tunes that you love & know, join us for a night of classics in The Backyard to celebrate all things Neil Young!
*Timing is approximate & subject to change
*Over 18's only
*No furry friends (although The Backyard is proudly a dog friendly area during regular service, pets are a no-go for our ticketed gigs 🐶)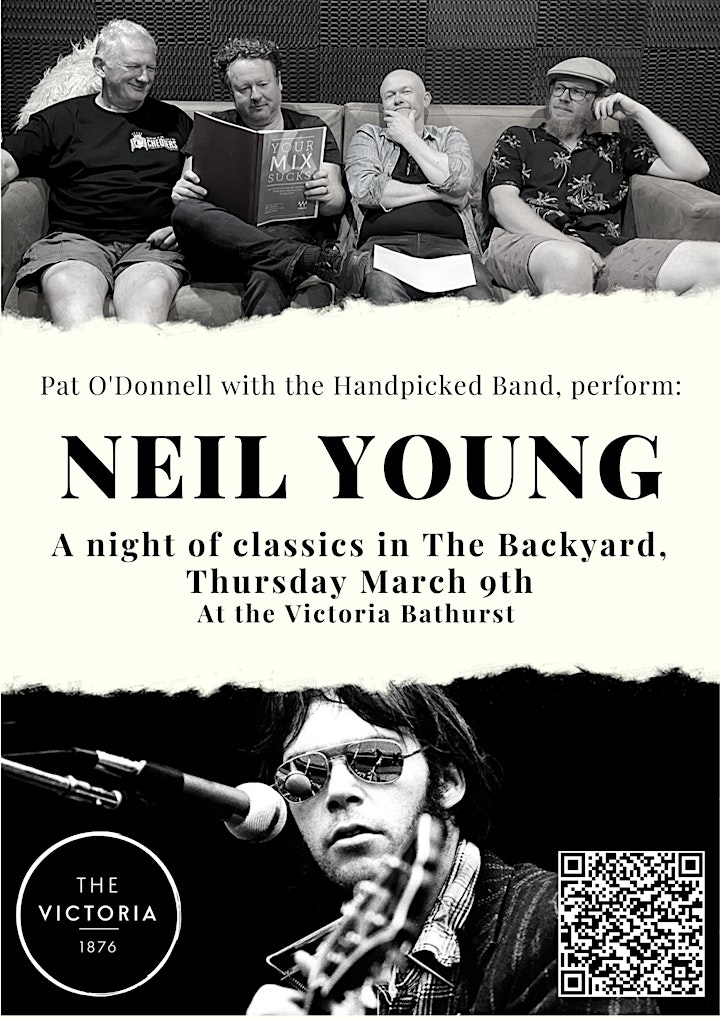 Related Events
The What's On calendar covers arts and heritage events happening across the NSW Central West in the local government areas of Bathurst Region, Blayney, Cabonne, Cowra, Forbes, Lachlan, Lithgow, Mid-Western Region, Oberon, Orange, Parkes and Weddin.
Event listings are sourced or supplied from local venues and arts organisations. Many events listed here have been originally shared by the organisers on social media. Whilst all care is taken – and accuracy is our priority – we can take no responsibility for date changes or the content of contributed information. Contact the event organisers listed for more details or to book tickets.
The best way to include your event is to use our SUBMIT HERE form (under the What's On menu at the top of each page). These listings will be manually approved by the Arts OutWest team before publication.  Please allow a couple of days for listings to be published. If you have submitted an event and want to make changes just email us at artsoutwest@csu.edu.au
'Featured events' are those submitted directly online by presenters.
Event promotors are asked to only include their own original images / images that they have permission to use / copyright free stock images. For more information see our fact sheet on Using Images For Promoting Events (if you can't see this link look under 'Opportunities' then 'Resources').